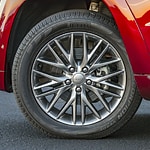 Being a great driver is the start of staying safe on the road, but it is always helpful to be driving a vehicle that is packed with safety features as well. This is what you will discover that you get with the Jeep Grand Cherokee. As a popular SUV, you can feel confident that you are safe while driving.
With the Blind Spot Monitoring feature, you will be notified if there is another vehicle in your blind spot. This will help you to stay in your lane instead of potentially moving lanes and causing a collision. This is a helpful feature to have.
Having seven airbags is also going to be reassuring. In the event of a collision. The airbags will help cushion everyone inside, while the high-strength steel construction of the Grand Cherokee will help minimize the impact. Take this SUV on a test drive the next time you visit Danville, KY.