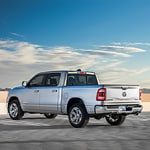 The Ram 1500 is a great option if you are looking for a pickup truck. Not only is it able to carry a large load, but it is also durable. One of the features that this vehicle has is tailgate assist. It has the ability to work in the warmest and coldest climates. This feature will make it easy for you to open the tailgate.
The tailgate also comes with key fob control. Airbags have been a standard safety feature on every vehicle for the past several years. However, the Ram 1500 has advanced airbag technology. If you get into a front end collision, then the airbag will deploy.
It will also adapt to the size of the occupant, which will minimize the chance of airbag injury. Additionally, it will consider the severity of the accident. If you need to test drive the truck, then you can go to the dealership.