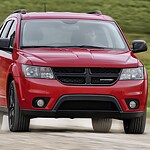 The Dodge Journey is a mid-sized sports utility vehicle. It has four doors and can seat up to five people. The Dodge Journey also has a variety of technology features that people can enjoy. The push start button is one of the features that this vehicle has. You won't even have to use your keys in order to unlock the door.
If you have your key in your pocket or purse, then the door will unlock. You will be able to start your car by pushing the start and start button and stepping on the brake pedal. This vehicle also has Uconnect 3 NAV. It comes with a GPS navigation system. You will also be able to see intersections and road signs on the app. It will be easy for you to get where you are going.
If you want to try out the Dodge Journey, then you can visit our dealership.