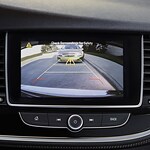 The Buick Encore has been considered one of the top choices for new buyers when it comes to safety. The automaker has enhanced these features on the Encore to make it appeal to families of all sizes. Using advanced technology, the Encore has plenty of driver-assist options that are sure to please.
One exciting new feature is the Encore's ability to sense a pedestrian walking in front of the vehicle when driving under 50 miles per hour. The vehicle will alert you of the potential impact to begin braking. If no action is taken, the Encore will automatically apply the emergency brake to slow or stop the vehicle when it senses an impending collision.
The Buick Encore offers high definition surround vision thanks to the increased number of cameras included. This increases driver awareness surrounding the vehicle and will even give you a "birds-eye" view at low speeds.